Our services
We undertake an introductory meeting or walk with all new clients and their dogs so you can ask any questions, share any quirks or behavioural concerns you may have and importantly make sure that you are comfortable for me to spend time with your pet having been able to see first hand how we interact with them. We're fully insured and have the DBS (CRB) background checks you would expect.
Training services:
One to one dog training: from basic commands to advanced training, we can also help with many behavioural issues. Find out more…
New puppy/rescue: Start on the right foot with one of our tailored one-to-one training packages for new puppy/rescue dog owners. Find out more…
Classes:
In association Hayley at Wight Agility Group (WAG) I'm pleased to now offer group classes running from a venue near Godshill.
Here's some information on what we will be covering:
Puppy classes: For the young ones
Beginners Agility: For those needing a challenge
Beginners Flyball: For the energetic dog
Adult basic manners/better behaviours: For those that need a helping hand
Find out more…
Walking services:
Dog Walking: prices start from £15 per dog an hour for a group walk and £20 for solo walks.
Dog Walking and Training: prices start from £25 session (one hour) for a one to one walk with myself, giving you guidance.
Dog Walking, Training and Social: prices start from £25 session (one hour) for a one to one walk with Barney and myself.
Dog Walking for the troublesome: prices start from £25 session (one hour) you can feel confident in the knowledge that your dog is in the best of care with an experienced dog handler and has full one-on-one attention at all times, taking solo walks to the next level.
Find out more…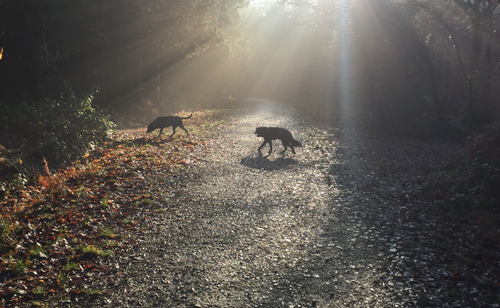 These services are available Monday – Friday and 9am – 5pm. However, training sessions can be arranged as required during evenings and weekends.
We're happy to tailor a flexible combination of the above services to suit your and your dog's individual needs – please call me on 07976 838965 to discuss or e-mail via contact page.