Dog Walking
All dog walks are based on when we leave the property or start the walk when off-site, they are GPS tracked and we leave a report card. The dogs can be run on or off lead depending on your preference and returned clean(ish) back to your home.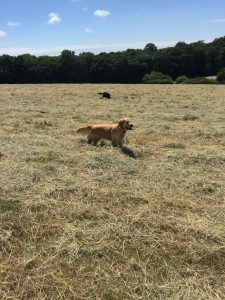 Group walks:
£15 per dog an hour for a group walk – 2-3 dogs max at any one time (more are welcome if from the same home and happy to discuss reduced rates for this).
Solo walks:
£20 for solo walks for dogs who are less sociable.
Dog Walking and Training: prices start from £25 session (one hour) for a walk with Richard or Evie, giving you advice. During this we will face real life situations and how to deal with them in order to make your walks more enjoyable and importantly fun!

Dog Walking, Training and Social: prices start from £25 session (one hour) for a training walk with Richard and Barney. During these session we will socialise your dog with Barney (my doggie) and learning to walk together and play games while encouraging positive behaviors.
Dog Walking for the Troublesome: prices start from £25 session (one hour) you can feel confident in the knowledge that your dog is in the best of care with an experienced dog handler and has full one-on-one attention at all times, taking solo walks to the next level. Walks will be discussed and planned in detail with get to know you sessions to allow you to be comfortable with me walking them. Please call to discuss requirements.